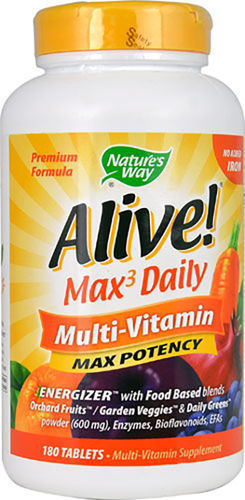 Alive! Max3 Multivitamina diário (Sem ferro), 180 Comprimidos
Temporarily Out of Stock
Please check back soon
Montante
por dose
% Valor
diário
(VD)
Calories
10
Total Carbohydrate
2 g
<1%*
Dietary Fiber
<1 g
3%*
Vitamin A

(67% [10,000 IU] as beta carotene, 33% [5,000 IU] as retinyl acetate)

15,000 IU
300%
Vitamin C (ascorbic acid)
1,000 mg
1,667%
Vitamin D3 (as cholecalciferol)
1,000 IU
250%
Vitamin E (as d-alpha tocopheryl succinate)
200 IU
667%
Vitamin K1 (as phytonadione)
80 mcg
100%
Thiamin (Vitamin B1)
25 mg
1,667%
Riboflavin (Vitamin B2)
25 mg
1,471%
Niacin (as niacinamide)
125 mg
625%
Vitamin B6 (as pyridoxine HCl/pyridoxal 5-phosphate)
50 mg
2,500%
Folic Acid
400 mcg
100%
Vitamin B12 (as cyanocobalamin)
200 mcg
3,333%
Biotin
325 mcg
108%
Pantothenic Acid (as d-calcium pantothenate)
125 mg
1,250%
Calcium (as citrate/carbonate/pantothenate)
250 mg
25%
Iodine (as potassium iodide and from kelp powder)
153 mcg
102%
Magnesium (as magnesium citrate and magnesium oxide)
125 mg
31%
Zinc (as zinc gluconate)
15 mg
100%
Selenium (as L-selenomethionine)
200 mcg
286%
Copper (as copper bisglycinate chelate)
2 mg
100%
Manganese (as manganese bisglycinate chelate)
5 mg
250%
Molybdenum (as sodium molybdate)
75 mcg
100%
Sodium
5 mg
<1%
Potassium (as potassium citrate)
50 mg
1%
Daily Greens™ Blend:

Amino Acids Spirulina, Kelp, Alfalfa (leaf, stem), Barley Grass, Blessed Thistle (stem, leaf, flower), Blue Green Algae (Aphanizomenon flos-aquae), Chlorella, Cilantro (leaf), Dandelion (leaf), Lemon Balm (leaf), Lemon Grass, Nettle (leaf), Plantain (leaf), Wheat Grass

400 mg
†
Orchard Fruits™ & Garden Veggies™ Powder Blend:

Blueberry, Orange, Carrot, Pomegranate, Plum, Strawberry, Apple, Beet, Cherry, Pear, Tomato, Cauliflower, Raspberry, Açaí, Asparagus, Banana, Broccoli, Brussels Sprout, Cabbage, Cranberry, Cucumber, Grape, Pea, Pineapple, Pumpkin, Spinach

200 mg
†
Cardio Blend

Hawthorn (berry), Japanese Knotweed (root) standardized to 50% resveratrol (5 mg), Coenzyme Q10 (ubiquinone)

100 mg
†
Digestive Enzyme Blend

Concentrated enzyme formula (Protease I, Protease II, Amylase, Lactase, Peptidase, Cellulase, Invertase, Alpha Galactosidase, Lipase), Betaine HCl, Bromelain, Papain

100 mg
†
Omega 3/6/9 Fatty Acid Seed Blend

Flax Seed Powder, Sunflower Seed Powder

100 mg
†
Organic Mushroom Mycelium Defense Blend

Reishi (Ganoderma lucidum), Shiitake (Lentinula edodes), Oyster Hiratake (Pleurotus ostreatus), Enokitake (Flammulina velutipes), Maitake (Grifola frondosa), Yamabushitake (Hericium erinaceus), Agarikon (Fomitopsis officinalis), Chaga (Inonotus obliquus), Himematsutake (Agaricus brasiliensis/blazei), Kawaratake (Trametes versicolor), Mesima (Phellinus linteus), Zhu Ling (Grifola umbellata)

100 mg
†
Citrus Bioflavonoid Complex

(from orange, grapefruit, lemon, lime, tangerine) providing: Hesperidin, Naringin, Narirutin, Eriocitrin, Flavonols and Flavones

60 mg
†
Eleuthero (Eleutherococcus senticosus) (root)
50 mg
†
Inositol
50 mg
†
Choline (as choline bitartrate)
30 mg
†
Rutin (Sophora japonica) flower bud extract
25 mg
†
Lutein (from Aztec marigold)
500 mcg
†
Outros ingredientes:
cellulose, stearic acid,sodium croscarmellose, hypromellose, silica, magnesium stearate, glycerin.
Direções:
Take three 3 tablets daily, preferably with food.
AVISO:
If pregnant, nursing, taking any medications or if you have high blood pressure, consult a healthcare professional before use. Contains the amino acid phenylalanine. Do not exceed recommended use.
* As doses diárias percentuais baseiam-se numa dieta de 2000 calorias
† Dose diária (DD) não estabelecida.