Creme de barbear hidratante de Aloe Vera inodoro, 8 oz (227 g) Tubo
Temporarily Out of Stock
Please check back soon
- Moisturizing cream shave with aloe vera extract
- Contains organic ingredients
-No GMOs, synthetic fragrances, phthalates, harsh sulfates, or parabens
Consciousness in Cosmetics®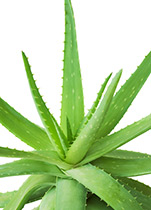 This rich, moisturizing Aloe Vera Shaving Cream spreads easily over skin, provides razor lift and glide, rinses clean and soothes sensitive skin for a perfect shave. Aloe Vera Extract and the rich oat nutrition of Beta-Glucan deeply hydrate skin while helping speed repair of nicks and skin irritation.
Containing organic ingredients, our science-based body care products are not tested on animals and do not contain GMOs, parabens or other harsh preservatives, mineral oil, sulfates, propylene glycol, artificial colors or synthetic fragrances to assure these chemicals will not be absorbed into the body through the skin.
We support sustainable agriculture and relentlessly seek out organic ingredients. Our products are vegetarian, hypo-allergenic and biodegradable. No animal testing.